Buffalo 100-Large
(max bag length 420mm)
Machine to open, fill and seal pre-made bags, such as Doypacks, Flatbottom, Sidegusset, 3 side sealed bags, piping bags and many others.
Max.speed: 10 bags / minute (depending on filling time).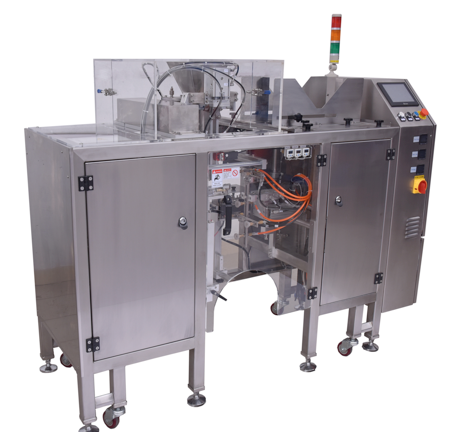 Characteristics:
Stainless Steel AISI 304 structure
Visual alarm on machine (running out of bags or product)
Easy movable because of retractable wheels
Electrical wires run through frame pipes
Vacuum and Electric fully seperated
Programming touch screen
Mitsubishi PLC
Movement and bag opening by pneumatic means
Venturi effect for suckers
Power: 230V mono phase - 1,2 KW
Air consumption: 0,6 m3 / min (600Ltr)
Size: 1.768 x 600 mm x 1.450 mm
Weight: 340 Kg
Bag width: min. 120 mm to max. 300 mm (custom sizes on request)
Side gusset bags bag width; min. 80mm to max. 210mm
Bag length: 120 mm to 420 mm (custom sizes on request)
Max. bag weight: 1,5 Kg (with heavy bag assist option)
All bearings stainless steel 304
Heavy frame 50x50x3mm, 304 stainless steel
Automatic failure diagnose on touchscreen
PTFE coated seal bars
How it works:

A pneumatic arm with suckers catches one of the bags from the charger, by means of venturi effect (1). Then, it places it in the filling position (2). The bag is opened (3) and filling can start, as a signal is sent to filling machine (4). When filling is done, the sealbars close (5) and once the bag is sealed, they open and the bag falls onto an exit conveyor (6).
Extra's:
Additional funnel
Machine comes standard with one funnel which is related to given bagsize. If more bagsizes are used which are much smaller or bigger you might need an extra funnel to keep up speed in filling process.
Grip seal
Additional jaws who clamps the bag around the funnel when filling process starts in order to achieve as less product in the air. Often used for light powdery products.
Zipper opening application
Special device which opens the zipper before funnel enters the bag.

Heavy bag assist / Product settler
Used for filling above 1KG and used for tapping under the bag to lower the product level while filling.

Product Vibrator
Vibrating motor connected on funnel for better product flow on sticky products.
Single or double head linear scale
Separate weighing machine which doses the product before dropping into the funnel of the bagger. This machine communicates with the Buffalo so it drops and doses automatically.
Output conveyor
Filled bag drops onto this conveyor which will transport it away to for instance rotating packaging table.
Price: on request
Video's: